G.Loomis IMX Surf Series Rods
IMX® SURF Series rods are extremely powerful, high-modulus, light weight spinning rods designed specifically for the long-range casts required to successfully fish the surf. These rods range from 8' to 11', with line-ratings varying from 12- to 40-pound test and lure ratings from 1/2 to 6-ounces. A durable and unique new handle design features our new "sure-grip technology" and a unique "micro-adjust" reel seat that allows you to set your reel position according to the length of your arms, with a full 5-inches of adjustment range. Another exciting feature on these lightweight pieces of surf artillery is the new "tangle-proof" Fuji K-Frame Alconite® guide system. The frames on these guides lean forward so line flows freely and efficiently. Even if the line comes off the spool in a wide arc, it won't catch or wrap on the frame. Whether you fish monofilament or Power Pro, you'll be in total control and able to achieve maximum casting distance with this new technology. It's an aggressive, no-holds-barred, "reach out there and get you some" series of surf rods for the true fanatics and it doesn't matter if you fish from the rocks, the docks, the sand or the reef... it's bombs away!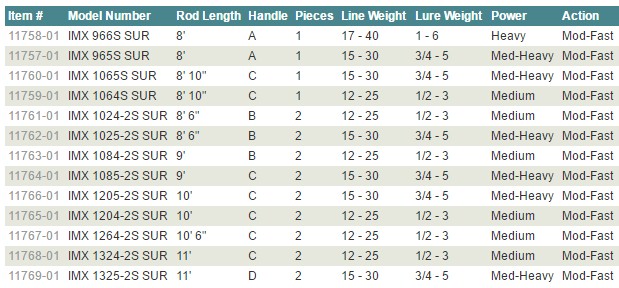 There are no products listed under this category.