Fin-Nor Sportfisher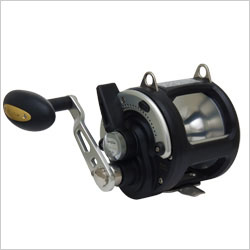 Ready When You Are
The Fin-Nor Sportfisher conventional series was created for anglers wanting a versatile, large-line-capacity, strong and durable reel. With a 30-size or a 50-size conventional reels along with our new SLD lever drag reels carry plenty of line and are strong enough to be used for any type of blue water fishing.
Built for the value-minded angler who demands Fin-Nor's legendary quality, Sportfisher creates an opportunity for those who may have never previously fished with Fin-Nor. We used the latest materials, and built in all of the features that today's anglers demand.
Sportfisher is the perfect reel for summer fishing, party boat fishing, or tournament fishing. Easy-to-use and durable, Sportfisher reels are sure to become mainstays on just about every type of fishing boat.
SPORTFISHER ST FEATURES
• Errgonomic handle and stainless steel components
• Oversized heavy-duty carbon fiber drag system
• Solid 1-piece aluminum frame
• Huge bronze and stainless gears
• Huge, heavy-duty harness lugs
There are no products listed under this category.