Accurate Fury Reels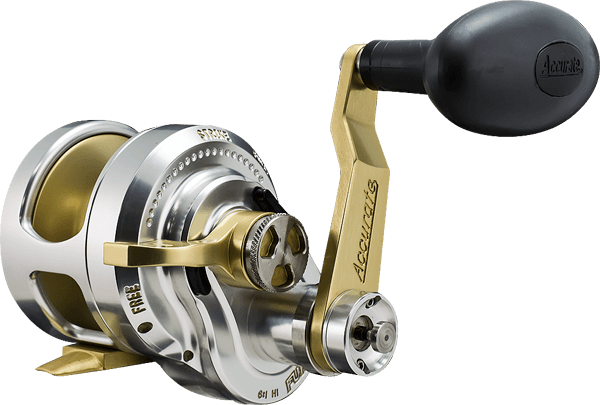 Accurate Fishing Products, originator of the patented TwinDrag® reels, has entered the single drag market with the introduction of the "Boss Fury" line of reels.
The "Boss Fury" line of reels are offered in single speed in gear ratios of 4.1 & 6.1, and 2-speed models featuring a 3.1:1 low and 6.1:1 high for the 400 and 500 models, and 2.2:1 and 5.1 in the 600 model.
These reels, like their "Boss Extreme" counter parts, are made of 6061 T6 billet aircraft aluminum for lightweight and strength. They feature a very simplistic design with stainless steel gears, wet drag for smoothness, and an ergonomic rubber handle that fits perfectly in your hand. They come with a brushed aluminum finish, are lighter, more comfortable, and very easy to use.
The line capacity of the "Boss Fury" reels are: 400 model – 20LB mono 300 yards, 40LB braid 400 yards, 500 model – 25lb mono 300 yards, 50LB braid 425 yards, 600 model – 40LB mono 300 yards, 65LB braid 450 yards.
These reels were designed with fishermen's needs in mind. If you are chasing bullet tuna, Schoolie Dolphin, or trying to catch your first White Seabass, the Boss Fury has a size to meet your fishing needs at an affordable price.
* Accurate reels like all mechanical products are designed with specific use in mind. The FX and FX2 reels will handle most gamefish but we do not recommend them for Cow fishing (Tuna in Excess of 200Lbs). If you are looking for a reel for stopping fish in excess of two hundred pounds the ATD series is designed for the most extreme gamefish and angling conditions.
There are no products listed under this category.