Accurate Boss Reels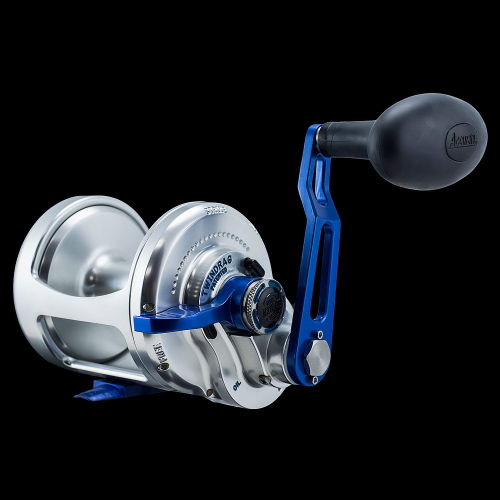 Accurate is proud to bring back the original reel that started the Small reel – Big Fish phenomenon, the new and improved Boss Extreme Series II 2 –speeds. Known for taking on fish that have a nasty disposition and putting their fair share of fish on the deck, the BX2 Series II has been upgraded internally, sporting a sexy, new look.
The BX2 Series II, like its predecessor is made of T6 6061 aircraft aluminum that is lightweight yet strong, and anodized for ultimate corrosion resistance. It has a large 17-4 heat – treated, stainless steel gear shaft for power and torque coupled with stainless steel gears to wind through the toughest fish during a heated battle.
Our Boss Extreme TwinDrag reels offer fishermen the ultimate in versatility. Light tackle anglers will love their effortless nd precision casting capabilities. Medium to heavy tackle anglers, on the other hand, can crank down hard on the TwinDrag to battle the largest game fish with heavy, braided lines. The exclusive TwinDrag system also supplies ultra-smooth drag operation, which results in fewer broken lines and less pulled hooks. With twenty nine Boss Extreme models to choose from, we have the perfect size reel to handle small, medium and larger size game fish from calico bass, halibut, redfish, bluefish, barracuda and king mackerel to big striped bass, sturgeon, yellowtail, dorado, amberjack, wahoo, tuna and billfish.
* Accurate reels like all mechanical products are designed with specific use in mind. The BX and BX2 reels will handle most gamefish but we do not recommend them for Cow fishing (Tuna in Excess of 200Lbs). If you are looking for a reel for stopping fish in excess of two hundred pounds the ATD series is designed for the most extreme gamefish and angling conditions.