Fin-Nor Santiago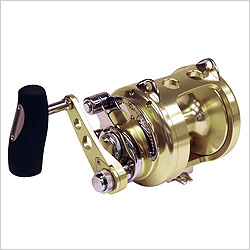 True Big Game Power To Tame The Ocean
You don't name a product Santiago, and fill the biggest shoes in the Fin-Nor product line without being totally ready. It is with total respect for the history, traditions and excellence of the Fin-Nor brand, and with the greatest appreciation for the role that Fin-Nor trolling reels played in writing the history of big game fishing, that we took time and diligence to the extreme in designing Santiago.
The flagship of the Fin-Nor brand, Santiago is a bold testament to modern technology's greatest advances in fishing reel materials and design. Perfectly sized for the technical skills of today's big game angler, Santiago features a solid one-piece, fully-machined aluminum frame and one-piece spool, supported by a machined stainless steel center shaft turning on four ultra-smooth, and ultra-strong, ceramic/stainless hybrid ball bearings.
Santiago's drag system, which includes a huge stainless steel drag plate, allows you to customize and fine-tune your settings to your type of fishing. The drag lever offers a wide range of drag, activating at the "Strike" position, with additional power available up to the "Full" setting. Plus, a simple push of a button puts the reel in to it's powerful low gear when you need it, and an easy turn of a dial lets you switch back to high speed to pick up line.
SANTIAGO FEATURES
• Full-machined one-piece aluminum frame
•Massive stainless steel drag plate
• Forged aluminum spool
• 4 ceramic hybrid ball bearings for support and strength
• Push-button and dial-release two speed shift system
• Classic Fin-Nor gold annodized corrosion-resistant finish
There are no products listed under this category.