Footcush Helm Pads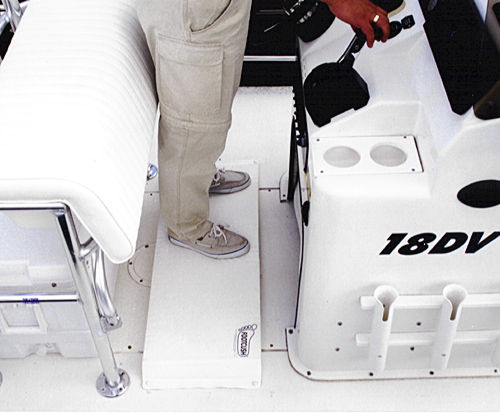 Even the best designed boat hulls can only absorb so much wave impact... and I bet your boat deck doesn't have padded carpet on it either!

After a day of fishing, doesn't it feel good to go home and kick back in your recliner? Why, because you stood up all day on a hard deck, riding those pounding waves and your lower body is killing you!
Recommended By:
DOCTORS - PRO FISHING GUIDES - BOATERS

NO MORE ACHING FEET, LEGS OR BACK!
This unique Patented cushioned deck mat is for all types of boats and it will reduce lower body fatigue of feet, knees and back. It's made of non-absorbent Ensolite closed cell foam, coated in a white vinyl finish with a textured standing surface. Soft enough to ease standing on a hard deck yet firm enough to absorb the vibrations and shock of pounding waves. This saltwater and weather resistant mat is also very buoyant. Available in two sizes to accommodate any type of boat and comes with stainless steel snaps for your option to secure in place.
1-1/2" Ensolite Closed Cell Foam

40" X 14" Fits Center Console Boats

(large Model)

White Textured Vinyl Surface

Easy On/Off Deck Snaps

Unique 3-Layer Construction

Saltwater & Weather Resistant