Dredge Cam

DredgeCam is a housing suitable for GoPro- Contour and other Cameras. It incorporates a dredge frame which allows for integration between the housing and the dredge. The advantage of the DredgeCam over it's competitors is the integrated Camera Housing and Dredge Frame. No tangles or independent rotation ever. You will never have to wonder whether your camera got the money shot- or had a big tangle for the past two hours. Camera and Shad Bodies shown are not included but are available at 1-888-810-7283.
After spending countless days trolling, and always wondering what we didn't see or catch, the idea for an underwater camera system evolved into the Dredgecam camera housing. After various other attempts at an easy way to capture underwater video ended in failure, the dredge cam was born. In a Costa Rican watering hole after a conversation with a videographer, some sketches hit a few napkins and a few months later the first prototypes were made. During testing many cameras were lost, broken, soaked, and cursed, but the Dredgecam camera housing finally evolved.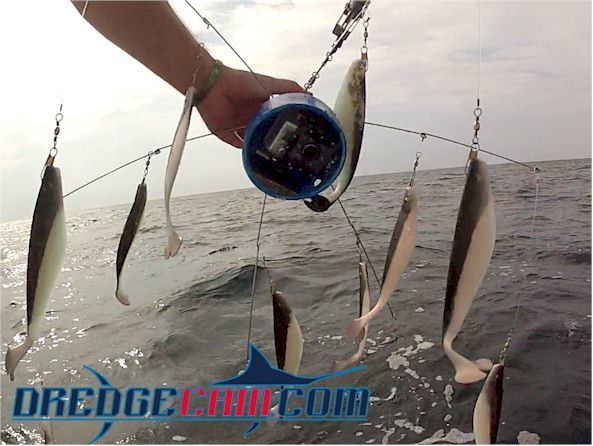 The GO PRO ™Hero HD, Hero 2, and Hero 3, the Sony Action Cam, and the Countour can all be used with the Dredgecam housing.
The design includes a weighted and balanced housing that allows for the upright trolling of your dredge as you pursue game fish throughout the world. Add the camera brand of your choice, your own expertly rigged baits, or ask our staff to build you the perfect dredge and hit the water. The Dredgecam dredge will fit right into your current spread by replacing your dredge or added as the second tier in a multi-tier dredge. Why add something extra for you or your crew to handle, or get tangled with.
The Dredgecam dredge housing is available with two different thicknesses of dredge arms, .093" (6 arm) or .125"( 6 or 8 arm) and is made from spring tempered stainless steel.
The 5.5lb integral weight is designed to swim at a depth prefered by Marlin fishermen. Your choice of baits and speed will ultimately determine the actual depth, and additional weight will allow the dredge to be pulled at higher speeds or greater depths. The 900lb test stainless tow cable and swivel are designed for the harsh marine environment in which they will be used. Simply attach the Dredgecam dredge to your current dredge system, press record, and enjoy your day on the water.